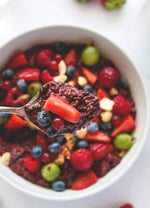 Once you get your hands on some acai, there are many ways you can use it - not just for acai bowls or smoothies. Acai bowls are the classic way to enjoy acai but there are other ways you can incorporate acai into recipes too. Here are some unique acai dessert recipes!
Overnight Oats with Acai
This Acai Overnight Oats is perfect for breakfast - healthy, filling and refreshing! 
Ingredients:  
1 cup raspberries

3 tbsp chia seeds

5 tbsp oats

2 tsp raw cacao powder

2 tsp acai powder

½ tsp cinnamon

1 tsp maple syrup or honey

1 cup dairy-free milk
Instructions:
Add chia seeds, oats, cacao, acai, and cinnamon into a container and shake until everything is well incorporated

Add milk, maple syrup, and raspberries

Stir thoroughly until everything is well-mixed

Cover with a lid and refrigerate overnight or for at least 3 hours

Top it off with your preferred toppings - berries, nuts, maple syrup/honey
Acai Ice Cream
This quick and easy Acai Ice Cream recipe is a healthy replacement for your usual ice cream. The cherries and acai both provide a nice boost of antioxidants to this summer treat!
Ingredients:
2 bananas, frozen

2 x 100g frozen acai pulp

1 cup cherries, frozen
Instructions:
Simply blend everything together and freeze it in the freezer. Thereafter, scoop it into a cone and enjoy!
Acai Fudge
You've heard of chocolate fudge but have you ever heard of acai fudge? This acai fudge would make a healthy mid-day pick-me-up snack. It would definitely boost your mood and keep you going!
Ingredients:
1 cup coconut cream

1 cup frozen acai pulp, thawed completely

1 lemon, zest

2 tbsp maple syrup
Instructions:
Heat and melt coconut cream, then add completely thawed acai, lemon zest, and maple syrup

Transfer to a pan lined with foil and freeze until firm

Cut into squares and enjoy
References:
Sheikh, N. (2021, July 6). All About Acai: Bowls, Benefits & Acai Recipes. Mind Over Munch. https://mindovermunch.com/blog/acai-recipes/
(2020, October 27). Raspberry Chia Overnight Oats with Acai. The Healthful Ideas. https://thehealthfulideas.com/raspberry-chia-overnight-oats-with-acai/