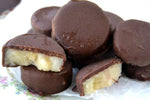 Always craving dessert and sweet treats but health is your concern? Well, who says all desserts are unhealthy? The key is to find a delicious and nutritious dessert that you can enjoy and not feel guilty. Here are some healthier dessert alternatives to satisfy your sweet tooth. 
Acai 
Known as a superfood, Acai is rich in nutrients and antioxidant content with many potential health benefits. You can create your own acai blend and make your own acai bowl or smoothie by simply blending our Organic Acai Pulp with ingredients like fruits and juice. Our Organic Acai Pulps are vegan, gluten free, non-GMO, and dairy free. The unsweetened acai pulp is keto and diabetic friendly whereas the acai pulp sweetened with guarana has low calories, fat and sugar. Read here for more acai bowl recipes. 
If you prefer a fuss-free and ready-to-eat option, you can get our acai sorbet. You can eat the acai sorbet straight from the pint or create your own acai bowl with it by adding various toppings. What's more, our acai sorbets are vegan, gluten free, and dairy free.
These acai desserts make a healthy, nutritious, and guilt-free indulgence!
Chia Pudding
Chia seeds are full of fibre, antioxidants, and Omega 3's. You can make your own chia pudding dessert by simply combining your chia seeds and preferred milk together and letting the pudding set for a few hours in the fridge. From there, you can add various ingredients like berries, granola, honey, and coconut. 
Low Sugar Popsicles
You can make your own homemade low-sugar popsicles with three simple ingredients! Simply blend fresh strawberries, zested, peeled and sliced lime, and raw honey. Then, pour this mixture into the popsicle molds and freeze for 2 to 3 hours. 
Baked Pears or Apples
Simply add a couple of sliced pears or apples, some brown sugar or maple syrup, some cinnamon, and bake them in an oven.
Chocolate Dipped Fruits
Dip slices of bananas or strawberries in melted dark chocolate - use dark chocolate as it has less sugar. Then, place them on a parchment paper-lined cookie sheet and freeze them for at least 2 hours.
Yogurt Parfait 
Yogurt is rich in protein and other essential nutrients like calcium, potassium, and Vitamin B which makes it a great base for dessert. By sweetening a plain yogurt with fresh fruits and whole-grain granola, you can satisfy your sweet tooth guilt-free and with minimal calories. 
References:
Colgate. (2022, March 25). 10 Healthy Alternatives To Satisfy Your Sweet Tooth. https://www.colgate.com/en-us/oral-health/nutrition-and-oral-health/how-to-cure-sweet-tooth#
Hickman, K. (2021, January 13). The 11 Healthiest Desserts to Have, According to Dietitians. Eat This Not That. https://www.eatthis.com/healthiest-desserts/