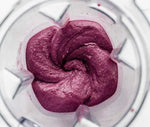 Do you struggle with achieving the right acai consistency when blending your own acai bowl? Is it always too watery? Well, here are some blending tips to achieve the perfect acai consistency and texture for your acai bowl!
1. Having a strong blender is key
Having a strong blender is crucial as it helps to ensure that the ingredients are properly blended. Including a blender tamper is also useful in helping to move the ingredients around while blending. This will help to blend your ingredients into a smooth and thick consistency with minimal liquid. We recommend investing in a good blender like Vitamix, Ninja, and Blendjet - it is worth it. 
2. Break your acai pulp into smaller chunks
Thaw your acai pulp for 5 to 10 minutes before cutting it open and breaking it into your blender. By breaking your acai pulp into smaller chunks, your blending process will be much smoother.
3. Freeze your fruits
The trick to achieving the creamy texture is to freeze your fruits (especially bananas) in advance. Adding frozen fruits into your acai blend help to give your acai bowl the perfect velvety consistency. Adding more frozen fruits also helps to enhance the acai consistency - raspberries, blueberries, strawberries - the more the merrier!
4. Add only a little liquid 
You should only add a little liquid (about 1 oz per acai pulp pack) - slowly add more if needed. Adding too much liquid will ruin the thick consistency, making your acai blend too watery/diluted.
5. Stir and shake your acai blend
Halfway through the blending process, you should turn off your blender and take it off the base to shake the ingredients or stir the acai blend with a spoon or blender tamper. This will help with the blender process, ensuring that all ingredients are properly and thoroughly blended. 
6. Check the consistency 
After blending, if the consistency is not right, you may add liquid in 1 oz increments. If the acai blend gets too watery, you can always add more frozen bananas to get a thicker consistency. Keep repeating this step until you achieve the perfect consistency. The acai blend should be thick enough that it won't slide out of the blender on its own. 
We hope that these tips help you to achieve the perfect acai blend!