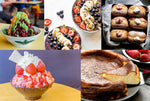 Singapore's dessert scene is inspired by a diverse mix of flavours and cultures worldwide. It features a wide selection of sweet and savoury treats. Here are some popular desserts that you can try in Singapore. 
1. Chendol  
Chendol is one of the most popular traditional desserts in Singapore. It is served with soft, pandan-green jellies and kidney beans on shaved ice. The shaved ice is soaked in coconut milk and syrup made with gula melaka and pandan leaves. You can easily find Chendol in most hawker centres and food courts in Singapore.  
2. Bingsu 
Bingsu was originated in Korea and it was a big trend in Singapore, with many Bingsu cafes popping up in Singapore. It is a type of Korean shaved ice where a block of frozen milk or cream is shaved to create a fluffy, snow-like dessert. It also comes with toppings like red beans, chopped fruits, condensed milk, and cookies.  
3. Acai 
Acai is another popular dessert in Singapore that has been trending in recent years due to it being a healthier dessert choice. Known as a Superfood, it is packed with nutrients with many health benefits. It is usually served as an acai bowl with many toppings like fruits and granola. If you wish to consume acai in the comfort of your own home, you can get it from Smoof. Smoof offers one of the fastest Acai delivery islandwide in Singapore, delivering great Acai accompanied with toppings for your everyday consumption right to your doorstep. Just choose your preferred delivery date and Smoof will deliver straight to your doorstep. 
4. Basque Burnt Cheesecake 
The Basque Burnt Cheesecake also trended in Singapore recently. It is a crustless cheesecake that is baked at a very high temperature to achieve the iconic burnt that consists of the caramelized crust on top. With the inside being slightly underbaked, it is super thick and creamy. You can get these cheesecakes from online local bakeries in Singapore where they will deliver straight to your doorstep. 
5. Sourdough Donuts
Sourdough Donuts is also one of the rising trends in Singapore. Made with sourdough, the donuts are light and fluffy and filled with classic creams such as chocolate, vanilla, and other unique creams like earl grey milk tea and sea salt maple. These donuts can mostly be found online where the online bakeries in Singapore will deliver straight to you.