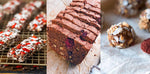 Everyone loves to snack and snacks can be found everywhere. However, healthy snacks can be challenging to find in Singapore. Instead of buying them, why not make our own healthy vegan snacks? We will be using our good old superfood acai as the main ingredient - rich in nutrients and antioxidants and the perfect way to meet your vegan snacking needs. They are quick, easy to prepare, nutritious and delicious! You can never go wrong with acai. Read on for healthy vegan acai-based snack recipes!
Acai Banana Bread
This Acai Banana Bread is perfect for breakfast in the morning or even for teabreak!
Ingredients:
1 pack Acai Pulp, thawed 

1/2 cup Vegan Butter (at room temp)

1 cup Vegan Sugar

3 Extra Large Ripe Bananas

2 Eggs or Egg Replacer Equivalent (separate yolks from whites)

1/2 tsp Vanilla

1/2 tsp Lemon Juice

1 tsp Baking Soda

1 1/2 cup Unbleached Flour

1 1/2 Tbsp Hot Water
Instructions:
Preheat oven to 350 degrees

Butter a loaf pan, mash bananas till smooth, and separate egg whites and yolks in different bowls

Cream butter and sugar together in large bowl. Add bananas, egg yolks, vanilla, lemon juice, and baking soda and mix thoroughly. Then, add flour and stir till combined. 

Beat egg whites until stiff, then gently fold into batter until blended. Lastly, mix in hot water.

Pour half of batter into your loaf pan, add the Açaí pulp to make a midlayer, then pour the remaining batter to fill.

Gently stir the batter in a circular motion to make açaí swirls.

Bake for about 45 minutes.

Let cool for 15 minutes
You may serve your healthy acai banana bread warm, cold, or toasted!
Acai Energy Bites
These Acai Energy Bites is great for a quick snack or even a dessert when you're craving for something sweet!
Ingredients:
1/2 tbsp Acai Powder

1 tbsp Cacao Nibs

A sprinkle of Chia Seeds

2 tbsp Nut Butter

1 tbsp Raw Agave Syrup

Shredded Coconut 

Granola or Baked Whole Grains
Instructions:
In a bowl, combine açaí, cacao, nut butter and agave. Stir until it creates a paste.

Refrigerate for at least an hour until it hardens. 

Scoop into teaspoon to tablespoon size balls, rolling them into balls with your hand

Fill a bowl with coconut shavings and granola pieces. Roll the balls in your mix so they're coated. 

Refrigerate for at least an hour. 
Acai Bars
These Acai Bars are sweet, chocolatey, fruity, and packed with nutrition - makes a great snack or breakfast. Super quick and easy - you can make them in just 20 minutes!
Ingredients: 
Acai Powder

Medjool dates

Goji berries

Shredded coconut

Walnuts 

Oats 

Maple syrup

Vanilla 

Vegan chocolate chips
Instructions:
Preheat oven to 175 degrees

Line baking pan with parchment paper

Process walnuts: break the walnuts into very small pieces with a food processor 

Pour the oats and processed walnuts into the baking pan and bake for 10-12 minutes or until slightly brown. Transfer to a bowl to cool. 

Blend acai mixture: blend the dates, acai powder, maple syrup, and vanilla until thoroughly combined

Combine acai and oat mixture: stir with spoon until thoroughly combined. Fold in chocolate chips and stir. 

Transfer mixture into baking panand press down evenly and firmly with a spatula

Sprinkle goji berries and coconut flakes and press down firmly

Freeze for 20 minutes to harden and cut it into smaller pieces
You may store these Acai Bars in an airtight container in the refrigerator for up to 2 weeks or in the freezer for 2 months.   

We hope that these vegan healthy snacks will satisfy your mid-day cravings and keep you going!


References:
McKamey, C. (2022, January 24). Superfood Acai Bars (Vegan, Gluten Free, Easy!). Veggie Chick. https://veggiechick.com/superfood-acai-bars/
(2018a, October 25). Açaí Banana Bread Snack Treat. SAMBAZON. https://www.sambazon.com/blogs/recipes/acai-banana-bread
(2018b, October 25). Açaí Energy Bites Snack Treat. SAMBAZON. https://www.sambazon.com/blogs/recipes/acai-energy-bites