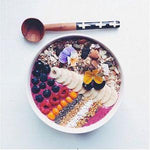 There are many ways to enjoy your Acai for example getting an Acai Berry Sorbet like the one we have over here.
However we find it rather satisfying to also be able to blend and create your own Acai bowl with the right ingredients and also using some Acai pulps.
Acai bowls have taken Instagram by storm and everyone loves taking photo about it. Perhaps it is time to show your amazing culinary, designing and photo skills with this bowl that you can craft & create!
Healthy, delicious and oh-so-photogenic, this ice cream alternative has so much to offer (and can be eaten for any meal).
Follow our easy recipe, then take inspiration from the any gorgeous bowls to make your own at home.
Basic acai bowl recipe:
1. Blend:
- 2 packs of Smoof frozen Acai pulps with Guarana
- 1/4 cup frozen mixed berries
- 1 frozen banana
- 1 scoop protein powder (optional)
- A couple splashes of rice, almond or coconut milk (start with a little, blend and continue to add splashes until it is your preferred consistency)
2. Pour into a bowl, mason jar or a handy coconut!
3. Decorate to your heart's content.