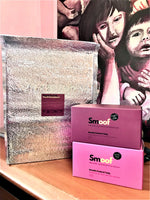 We have been printing quite a bit of stickers ever since Smoof was incorporated. Whether is it for Packaging, Branding or just labels we have used stickers for them.
Recently we launched our Acai pulps over different platforms, there are bundle sets that we added in, however, our printed package can't be used for that amount. Since it will be on a different blank packaging, we thought by using a simple sticker as a label will be good.
Works out well and it goes well with our frozen pulps without any issue even during delivery!
So where are these vinyl stickers printed from? We actually got them right from Singaprinting. This is not the first time using their services, we had printed labels for our Acai Sorbet previously due to changes in ingredients and nutritional information.
With lots of information, clarity, choices and flexibility, it is definitely easy to choose the suitable labels for us. We no longer need to drop by one of the shops to get some stickers done, they will deliver it to you!
Check out the other stickers that they have:
Business cards? No problem:
If you are interested to find out more, visit Singaprinting for more info.
*This is a sponsored post, contents on this post are all factual and non biased