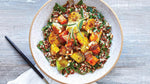 You've heard of all kinds of acai dessert - acai bowls, acai smoothies, acai cake, acai sorbet and many more. But have you heard of acai paired with savoury meals? Acai is actually an incredibly versatile ingredient - it can work as a healthy dessert and snack, and even as an exotic touch for a main dish. Acai isn't just for smoothie bowls. Read on to discover some unique acai food combinations, a savoury twist to acai. 
Salad with acai dressing 
This salad bowl contains many antioxidant-rich foods such as romaine lettuce, cucumbers, strawberries, blueberries, nuts, and acai. The acai berry adds an extra punch of fruity flavor as well. Great as a healthy light lunch or protein bowl after a workout. 
Ingredients:
1 lettuce head, chopped

1 cucumber, sliced

Strawberries and blueberries

2 tbsp extra virgin olive oil

Lemon juice

2 tsp Acai 

powder

1 tsp pomegranate molasses (or rice malt syrup)

2 tbsp chopped nuts (optional)
Instructions:
Mix all vegetables and fruits in a bowl

For dressing: mix olive oil, lemon juice, acai powder, and pomegranate molasses. Drizzle dressing on salad and toss.
Acai berry pumpkin bowl
This acai berry pumpkin bowl is a little different from your usual acai smoothie bowl. The pumpkin puree provides a thicker and creamier finish. Perfect for a quick breakfast before starting your day. 
Ingredients:
1 pack acai pulp

½ cup frozen blueberries

¼ cup pumpkin puree

1 small persimmon sliced

1 tbsp granola 
Instructions:
Blend acai pulp, frozen blueberries, and pumpkin puree together, until mixture becomes smooth and thick

Top it off with sliced persimmon and granola 
Acai and tapioca 
This acai and tapioca combination is incredibly easy to make. Simply sift the tapioca flour over a hot pan - the flour grains will melt, forming a homogeneous sheet. Then, add some butter and it is ready to be served with your acai bowl. This makes a delicious and nutritious breakfast.
Acai vegetable bowl
In this recipe, we will be combining vegetable bowl with sweet acai and balsamic vinegar. 
Ingredients:
¼ cup acai pulp, thawed

¼ cup balsamic vinegar 

¼ cup olive oil

2 tbsp honey

Minced garlic and 2 tbsp finely minced rosemary leaves 

2 sweet potatoes, 2 large parsnips, 2 golden beets, 1 turnip, cut into cubes

1 small red onion, chopped

1 cup finely chopped baby spinach leaves

4 cups cooked quinoa 

¼ cup pine nuts 
Instructions:
 Preheat oven to 204 degrees. Grease baking sheets

Combine

acai, vinegar, oil, honey, garlic and rosemary in a large mixing bowl. Then, add sweet potatoes, parsnips, beets, turnip and onion to bowl.

Spread vegetables on baking sheets and roast 10 minutes. Rotate pans and continue baking for 15-20 minutes more. Then, stir in spinach

To serve, add quinoa and sprinkle with pine nuts.  
References: 
Clean Eating. (2021, September 1). Acai Isn't Just for Smoothie Bowls, Try it in These Gluten-Free Roasted Vegetables. https://www.cleaneatingmag.com/recipes/acai-balsamic-glazed-roasted-root-and-quinoa-bowl-recipe/
Cooking with a Wallflower. (2014, November 10). Acai Berry Pumpkin Bowl. https://cookingwithawallflower.com/2014/11/10/acai-berry-pumpkin-bowl/
Organic Burst. (n.d.). Gem Salad with Acai Dressing. https://www.organicburst.com/blogs/ob-life/54271045-gem-salad-with-acai-dressing
Vida boa Açai. (2021, October 1). Foods that pair with acai: toppings and meals. Vida boa Açai - Taste the Good Life. https://vidaboaacai.com/blog/foods-with-acai/