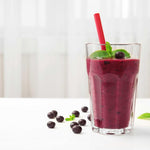 Now other than Acai bowls, what can you do with a Frozen Acai pulp? Try an acai superfood smoothie with kale and chia seeds! This smoothie is packed with nutrients and antioxidants, perfect breakfast to give your body a boost of energy and start your day!
To make this smoothie, you will need the following ingredients:
1. To start, thaw the frozen acai berry pulp and blend them with kale leaves as well as almond milk in a blender until smooth.
2. If you have a strong blender and want a thicker consistency to this smoothie, use sliced or whole Frozen banana to achieve that. Add them and blend again until all ingredients are mixed well.
3. Finally, add the chia seeds and honey (if using) and blend one last time to create a thick and creamy smoothie.
Here's why this smoothie is so good for you:
Acai berries are a superfood that are rich in antioxidants, fiber, and heart-healthy fats. 
Kale is another superfood that is loaded with vitamins, minerals, and antioxidants. 
Chia seeds are a great source of fiber, protein, and omega-3 fatty acids. 
By combining these superfoods into one delicious smoothie, you can give your body a powerful dose of nutrition that will help you feel your best. Plus, the sweetness of the banana and honey make this smoothie taste like a treat!
So, if you're looking for a healthy and tasty way to start your day, give this acai superfood smoothie with kale and chia seeds a try. Your body will thank you!