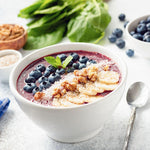 Some days can be rough and tiring. Getting out may seem like a chore but doing some dishes might be therapeutic especially when it is an Acai bowl.
Try this easy acai bowl recipe that is packed with antioxidants and flavor. Made with frozen acai, mixed berries, and almond milk, it's a delicious and healthy breakfast or snack option. Topped with crunchy granola and chia seeds, it's a satisfying meal that will keep you fueled all day.
Ingredients:
1 packet frozen unsweetened acai pulp
1/2 banana, sliced
1/2 cup frozen mixed berries
1/2 cup almond milk
1 tbsp honey or maple syrup
1/4 cup granola
1 tbsp chia seeds
1 tbsp shredded coconut
Sliced fresh fruit for topping (optional)
Instructions:
Run the frozen acai packet under warm water for a few seconds to break it up into smaller pieces.
In a blender, combine the acai, banana, mixed berries, almond milk, and honey/maple syrup. Blend until smooth and creamy.
Pour the mixture into a bowl.
Top with granola, chia seeds, shredded coconut, and any additional fresh fruit toppings you like.
Serve immediately and enjoy!
For less than a fraction of cost compared to dining out for an Acai bowl and sugar free option Acai pulp, this is the best way to save while being healthier at your convenience anytime at home!